Inaugural Art Exhibition
Sunday, May 20, 2007 1:00 pm to 5:00 pm
Saturday, May 26, 2007 1:00 pm to 5:00 pm
Sunday, May 27, 2007 1:00 pm to 5:00 pm
Monday, May 28, 2007 1:00 pm to 5:00 pm
Saturday, June 2, 2007 1:00 pm to 5:00 pm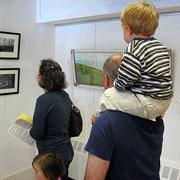 Arts on the Lake celebrated its inaugural exhibition with over 600 friends and neighbors visiting the show. Seventy-five works of art were on exhibit representing over 30 local painters, sculptors and photographers.
Exhibitors: Pallas Athene, Leo Burmester, Colette Burmester, Patricia Bolgosano, Chris Casaburi, George Corbellini, Bonnie Eggena, Harvey Ehrlich, Nancy Faccilonga, Pal Gyomai, Eve Hillyer, Bruce Iacono, Michael Keropian, Ray & Kate LaRanger, Elizabeth Lauri, Donald Longabucco, Gerald Michalak, Matthew Mortimer, Ethel Perin, Peter Perin, Virginia Reynolds, Bob Rogers, Leah Rogers, Gloria V. Rufino, Arlene R. Seymour, Mary Ann Taormina, Bill Ullman, Roy Volpe.
About the Event
Photos courtesy of Bob Rogers.
VISUAL ARTISTS COMMITTEE:
Chairman: Chris Casaburi;
Installation: George Corbellini, Michael Keropian, Don Longabucco, Bill Ullman, Roy Volpe; Forms and Procedures: Bonnie Eggena, Sue Gamache.
The following businesses contributed to the opening exhibit: As You Wish!, Brown Ink Inc., Country Gardens, Edible Arrangements of Carmel, Kent Liquors and Lake Carmel General Store.
The hanging system for the exhibit was made possible by a grant from PLAN Kent.