Rock on the Lake
Saturday, August 18, 2007 at 8:00 pm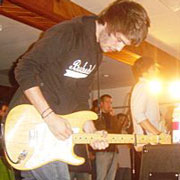 What an event! For those of you who didn't make it out last evening to the 1st Rock on the Lake event at the Cultural Center at Lake Carmel all I can say is... you missed out on a stellar event. Rarely in our area are so many talented young people brought together in one place to hear and perform their music.
Rock on the Lake in the News
About the Event
Lake Carmel Cultural Center Rocks!
What an event! For those of you who didn't make it out last evening to the 1st Rock on the Lake event at the Cultural Center at Lake Carmel all I can say is... you missed out on a stellar event. Rarely in our area are so many talented young people brought together in one place to hear and perform their music. Congratulations to Leah Rogers and Bryan Caprari who produced the evening and to volunteers, Jim, Sean, Eva, Liz, Kathy and Bob who helped set up and break down when it was over. The community spirit was further in evidence by those who came by to drop their kids off to hear the show and ended up staying around to lend a hand or to listen themselves. This event marked a turning point for Arts on the Lake, firmly establishing it not only as a venue for the graphic, design and performance arts and for its incredibly successful Open Mouth Nights, but now for music of a generation often ignored at cultural centers as well.
It's a party, you can dance if you want to...
100 people packed the Cultural Center, it's maximum allowable by law, (and more stood outside,) from the area, from Putnam Valley, from Patterson, from Stormville and from points south including New York City, all coming out to hear three bands and solo guitarist, Leara Broderson, who opened the night with a stellar performance.
Leara's songs are complex and winding and difficult to place into a genre. Her intricate vocals and solo guitar weave an inextricably complex web of sound. Leara says, "My type of music doesn't really have a type, I don't think. Most people don't really know how to describe it. My friends tell me I am "completely different from anything else" they've heard, and that I have a lot of different colors in my songs. You might hear a song that has a lot of Joni Mitchell's type of style, and then hear a song which combines the Pixies and Thelonious Monk's influence." Leara has agreed to perform at a future Open Mouth Night so watch this space for that announcement. It will be a set you won't want to miss.
Following Leara was a local band Moving Mountains made up of Nicholas Pizzolato on drums, Mitchell Lee on bass, Gregory Dunn, lead guitar and Frank Graniero on guitar. The cultural center's building literally shook with their music and there were a few moments when the sound board maxed out leading to the silent fear that the building's circuits would blow, plunging half the town into darkness.
Writing for "Silent Ballet", Joseph Sannicandro says of them, "The case of Moving Mountains is interesting because very few people understand the nature of this band... When a music blogger posted the band's demos on his site last year, the band quickly gained a small internet following, propelled by the strength of the music itself, an amalgam of melodic indie rock and spacey ambiance. Its catchy melodies were interspersed between long form crescendos and ambient interludes, hearkening to the glory days of the Appleseed Cast. The complex arrangements, multi-layered songs are complimented by vague literary references, whose powerful themes enable the music to resonate emotionally without being overly particular..." This is a local band which bears watching in the future.
The third band to take the stage last evening was Bombita. Bombita's members are; Devin Brown on bass and vocals, Chris Brown on guitar and Bryan Caprari on drums and vocals. You might remember Devin from Arts on the Lake's reading of "A Christmas Carol" and he is also an occasional visitor to our Open Mouth Nights. Bombita describes their music as "Post punk/Americana" influenced by The Doors, Primus, Fugazi, Mogwai, The Pixies, Talking Heads, Ennio Morricone, GodSpeed You! Black Emperor, (which has taken Punk solidly into the classical genre,) and the Residents, a band from a while back which broke new ground at every opportunity and spawned everything from whacked out art to computer games. Bombita has an album out called "In Transition".
We're Getting Closer to the End..
Last up and the main act for the evening, was the band Fire Flies, fresh from winning the prestigious Emergenza Festival which this year placed 6000 unsigned bands from around the world in direct competition through a series of 1500 concerts, all leading up to 17 finalists who played an ultimate showdown in Rothenberg, Germany. The band's drummer, Stormville resident and Carmel High School graduate Seth Faulk, was awarded best drummer - in the world. This is sure to put them on a fast-track to success and there's damned good reason as anyone who was in attendance last evening can tell you.
Fire Flies' members are; the incredibly talented Dan Romer on vocals and acoustic guitar, Wil Farr on electric guitar, Matt Krahula on bass (who could easily enjoy a successful solo career,) and champion Seth Faulk on drums.
There isn't enough space in this post to say all that needs to be said about Fire Flies but keep an eye out for them for they are sure to be a familiar name in the future. Their latest album, "Baobabs In The Basement" is available from CD Baby.
Fire Flies is in residency at Crash Mansion in the Bowery so if you want to hear them any time soon, that's the place to go. And while their following is generally young, anyone of a certain age (we know who we are) will recognize their influences and find their music not only approachable but downright easy to slide in to. They've achieved a right balance of vocal harmonies which blend purely with their instrumental lines to achieve a sound that, while hard to pinpoint with a genre, is accessible to anyone with an ear for good music. Whatever it is, it's hard driving and gets you to dancing.
One of the band's influences is Kurt Weill, and that influence is evidenced in "We're Getting Closer to the End". They also attribute Talking Heads, Kate Bush and the Pixies, all at the top of their fields - a height which Fire Flies is almost sure to attain. They say, "Our hope is to one day become musical ambassadors to intelligent life forms from other parts of the galaxy, but of course, it's only a hope". And there's a certainty they'll achieve that.
It was a vast coup for Arts on the Lake to land Fire Flies, Bombita, Moving Mountains and Leara Broderson last night and I can guarantee not only did Lake Carmel Rock last night, but it danced, too. It was a hell of a party.
This review was written by Jeff Green for PlanPutnam.org.