Open Mouth: Songs without Words. Words without Songs
Friday, February 8, 2008 at 8:00 pm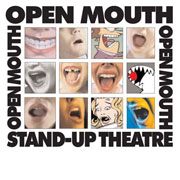 With the theme of "Songs Without Words, Words Without Songs", some of the area's most talented instrumental performers shared the stage with regional and national talent of stage and screen.
Opening the show was a 12 minute up-to-date version of Hamlet starring Lora Lee Ecobelli, Jeff Green, Peggity Price, Midhat Serbagi, Richard Lopez, Daniel Simon and Roger Simon. Poison, sword fights and all.
Following Hamlet, poet and storyteller Harvey Ehrlich took the stage to read a new creation "Sadie's Story", which, as his works always do, charmed the audience with a tale of love and redemption and ultimate hope.
The first musical performer of the evening was Putnam Valley's Joe Giannini who, for 12 minutes, brought the audience into an ethereal, introspective world of blues/jazz improv on an orchestral double-base.
Twenty-four year old Richie Lopez, one of the few people known to have alarmed fellow poet and youth icon Raegan Butcher, grew up in Kent and now lives in upstate New York, made a return visit to the stage last evening to read three of his latest poems, "Attic", "Blackbox Independence", and "Redefining Gravity".
Finishing the First Act was also a return visitor, Alan Goodman, a flamenco guitarist who performed on this stage a few weeks back in "Music for Four Voices". Playing both the guitar and a tenor ukulele, Alan, once again mesmerized the audience as he always does. "I love playing this place, it's got such a great feel to it", Alan said after his set.
The Second Act of the evening opened with a short play, "Balls" written by Patrick Davin, was one of the highlights of Westchester's Axial Theater's festival of short plays. Ron was played by Doug Darwin and Tom was Matt Walton. This hilarious short play, originally directed by Chuck Bradley, examined the story of two stay-at-home dads, former competitors, who accidentally meet at a driving range and renew their rivalry on a new field of play.
Following, came Carmel High School's Rayon Al-Shahrani on violin who performed pieces by Mozart and Wieniawski. Rayon is both an accomplished violinist and a student of violin making. He plans to continue his studies in both areas after graduating Carmel this spring. Ray was accompanied on piano by Westchester-based music therapist and performer, Angeline Brown. Taking command of the stage was Lora Lee Ecobelli, no stranger to Open Mouth and other Arts on the Lake performances and events. Ms. Ecobelli, who directs the Blue Horse Repertory Company, read from her upcoming novel, "Wanda Allen" the story of two young women coming of age. Ending the evening on a bright musical note, Lake Carmel's Steve Schreiber entertained the audience with three jazz/blues guitar solos sending the audience out into the cold, star-filled February night with a song in their hearts and one more wonderful Open Mouth event under their belts.